Cher's Flair Photography High School Senior Representative Program
Being a Representative
- The Senior Representative Program is a awesome way to be an ambassador for your school and get your Senior digital pictures done for FREE! Are you a High School Junior this year? We are looking for our High School Senior Representatives for the 2014-2015 school year. This is a great opportunity for outgoing guys and girls to document this very special time in your life with professional photographs. No prior modeling experience is necessary. We will be selecting 2 students from each of the following local schools, Coconut Creek High, Coral Glades High School, Coral Springs High School, J.P. Taravella High School, Piper High School, Plantation High School, South Plantation High School and Stoneman Douglas High School. The school year start is right around the corner, now is the time to submit your application and lock in a your spot!
How the Program Works
- You get your digital portraits done for FREE :) You will get 100 Rep. Cards with your photo on it to pass out to all of your friends over summer vacation and upon returning to school in the fall. You talk to them about your fun photo session experience. For each one of your contacts who hands us your Rep. Card, books and completes a photo session with us you get $10. Each of those contacts also receive a 10% discount off their High School Senior Portrait Session Fee...(boy will your friends thank you!) For every 10 of those contacts who book and complete a photo session, you get a $20 bonus. It's that easy and that great! A few days before your photo session we can have a clothing consutlation and decide on the best locations for your shoot. At the shoot we stylize the outfits for your awesome look, go to our decided locations and have a blast! The session can last two - three hours allowing for location and outfit change.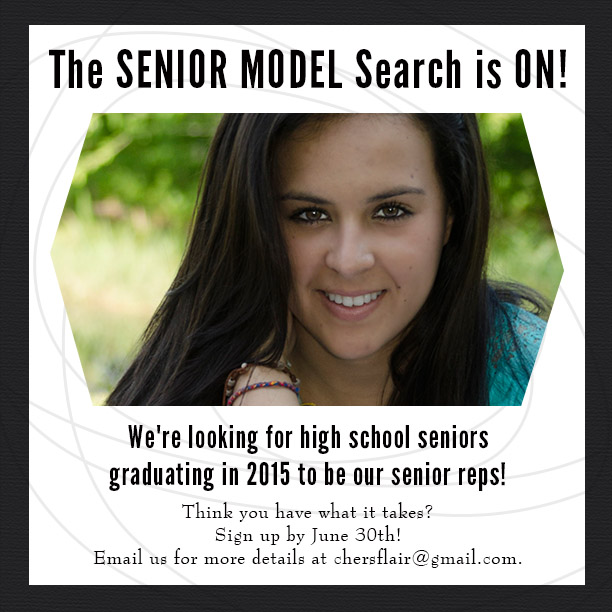 I get my digital photos done for FREE?
- Yes. Really. In fact, this is what's included in your Senior Rep Experience:

A FREE High School Senior Portrait Session (a $250 value)
25-30 fully edited and enhanced digital photos from which to select a print package
4 Free images of your choice for Facebook
100 Rep cards with your photo to pass out to your friends
Now here's where it really pays off to do this program:

***For every friend you refer who books and completes a session you get $10 cash***
***For every 10 friends you refer who book and complete a session you get a $20 BONUS***
***You get 25% off your entire print order***
***Your confirmed referrals who book their High School Senior Portrait Session get 10% off their Session Fee***
Totally Awesome, right? Here are the details:
- Here are the Details:

First time senior models only – cannot have previously had senior images from another photographer to qualify.
Must be a senior graduating class of 2015.
Must be energetic, outgoing and comfortable in front of a camera (no modeling experience required).
Must be in good academic standing.
Agree to represent Cher's Flair Photography and Digital Designs.
Must be willing to pass out your rep cards to all your friends and let them know how fun your photo shoot was.
Must have an active Facebook that you use on a regular basis.
Be involved in something extra curricular – band, cheerleading, drama, academics club. What makes you different, let the real you shine!
Must have your parents/guardian sign a model release, no exceptions.
The $250 session fee is waived for being a representative, and you get a 25% discount on your print order. However, no minimum print order is required.
If you think you can handle all that then you just click the link below to complete the application, or you can email me at chersflair@gmail.com.
Representatives will be selected through an online application process.
It is short and sweet, and simply gives me an idea of your individual interests in and out of school. Click the Application link above to get started.
I Have More Questions
- Feel free to reach me at (954) 536-2764 with any questions you have.