Mommy and Me / Daddy and Me Mini Session
Don't Forget You
- I'm a photographer, always behind the camera capturing those beautiful moments for my family and yours. My children are 6 and 8 years old now and when I look back through my images there are not many of Me and Them together. Lots of them but not so much with me. What I would give to go back in time and create those photos I missed because I didn't hand the camera off to someone else to capture the moment. You owe it to yourself to spend a little bit of time in front of the camera with your precious little ones to create and have the memory for yourself and for them. That's what this Mommy/Daddy and Me Mini Session is all about.
Don't Forget Dad!
- Dad's love photos with the kids for their desk, desktop image or phone background. Surprise him this Father's Day with a quick and easy photo session. Give him and the children a gift and memories that last.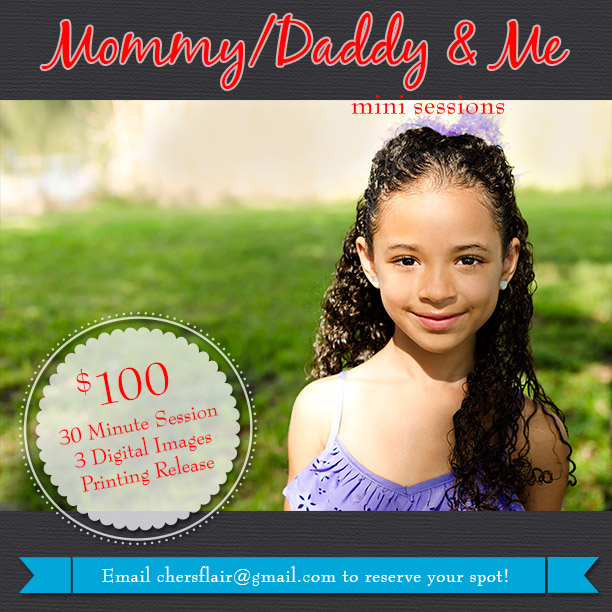 The Session
- Tailored especially for you and your little one(s) this is a quick 20-30 minute session and includes 3 high resolution, hand edited and enhanced digital images, 3 Facebook/Social Media ready watermarked images / or Facebook Timeline. Beach sessions subject to $25 fee for salt water wear and tear.
The Prints
- So give yourself the perfect gift for Mother's Day or Father's Day. You'll love it and your children will too. With this session you will get three digital images and an online gallery for selecting and ordering prints and canvases. This is perfect for gifts to family as well. Cher's Flair can also create custom scrapbooking digital image pages to gift family members. If you have more than one child we will work on getting a photograph of you and each child and some adorable snuggly shots of you with your babies all together. Make sure you treat yourself, to this wonderful gift of freezing a precious moment of loving your children! We know you all adore your babies, the big and small ones…so give a gift to yourself or someone you love now….and a gift to your children years from now in gorgeous photographs. Contact me at 954-536-2764 to book a session or click the link below to send me your information.